Kvällskryssning från Skeppsbron 7 maj kl 16-20/Evening cruise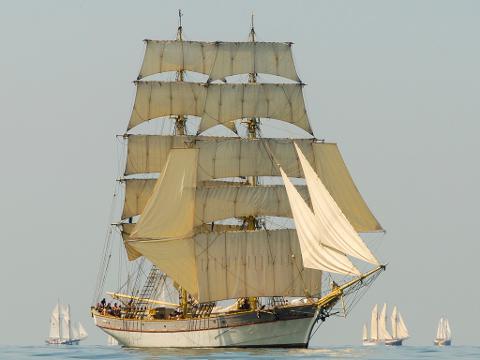 Varaktighet : 4 Timmar (approx.)
Plats: Stockholm
Produktkod : PQAUZ2
Säsongens första publika segling startar vi från Skeppsbron mitt i Stockholm. Vi börjar med en kort genomgång av fartyget och säkerheten ombord. Så snart vi kan sätter vi segel och alla som vill är välkomna att vara med. Besättningen visar och berättar så att alla kan delta. Vi seglar på samma sätt som på 1800-talet med hjälp av vinden och vår egen handkraft.

Mot slutet av seglingen dukas maten fram i Salongen och vi sätter oss till bords för att avnjuta måltiden medan besättningen gör klart fartyget efter dagens segling och tar henne in till kaj.

Drop in vigsel på lördag förmiddag
Lördag den 6 maj från kl 10-15 är det drop in vigsel ombord för de som vill ta chansen att kombinera en fin segling med Tre Kronor med att befästa sin kärlek till varandra.
Lördagens kvällskryssning är fullbokad men platser finns kvar på söndagens segling.
För mer info om drop in-vigsel KLICKA HÄR
Four hours sail with the beautiful brig Tre Kronor af Stockholm. We start with a briefing about the ship and the safety onboard. As soon as possible after departure we set sails and you are welcome to participate. The crew will guide and help you so that everyone can participate. We sail the ship in the same manner as in the 19th century with help from the wind and the power of our hands.
Dinner will be served towards the end of the trip.
Plats/Place for departure and arrival
Skeppsbron Stockholm
Varaktighet/Duration
Fyra timmar, avgång kl 16:00. Four hours, departure at 4 PM
Samling 15 minuter före avgång. We want you at the ship 15 minutes before departure.
Pris/Price
Vuxna: 850 kr. Barn o ungdomar t o m 18 år: 650 kr. Adults: 850 kr. Ages up to 18: 650 kr.

Mat och dryck/Food and beverages

Varmrätt samt kaffe med kaka och ingår i priset. Alkoholfri dryck samt folköl finns att köpa i baren. Det är inte tillåtet att ta med egen dryck.
Main course and coffee after the dinner is included in the price. No alcohol is served but you can buy light beer and soft drinks. You are not allowed to bring your own alcohol.
Specialkost/Food allergies
Om du inte kan äta vissa sorters mat är det viktigt att du anmäler under "Övrig info".
If you can not eat certain ingredients. Pleas write that under "Additional information".
Betalning / Payment
Betalning sker antingen med kontokort eller via faktura. Om du väljer faktura betalar du till Briggen Tre Kronors bankgiro enligt instruktioner i bekräftelsemailet.
You can choose to pay with your credit card or by invoice. If you choose invoice you will receive a mail with instructions on how to pay to Briggen Tre Kronor's bank account.
Villkor
Bokningen är bindande om inget annat överenskommits. Om du uteblir utan att avboka resan faktureras du eventuella obetalda belopp i efterskott.
Seglingen ska vara betald senast 45 dagar före avgång. Om du bokar närmare seglingsdatumet bör betalning ske omedelbart.
Vid avbokning senast 45 dagar före seglingen återfås hela beloppet.
Vid avbokning 44–15 dagar före seglingen återfås halva beloppet.
Vid avbokning senare än 15 dagar före seglingen sker ingen återbetalning.
Terms
The booking is binding, unless other agreements have been made. If you do not show up without cancelation notice, we will bill any remaining amount afterwards.
The trip is to be payed 45 days in advance. If you book closer to the sailing date payment should be done immediately.
If you cancel 45 days or more before the trip, the total amount is refunded.
If you cancel 44–15 days before the trip, half the amount is refunded.
If you cancel less than 15 days before the trip, no money will be refunded.
Avbokningsskydd / Cancellation insurance
Det finns möjlighet att köpa till ett avbokningsskydd vilket ger pengarna tillbaka vid sjukdom. För att avbokningsskyddet ska gälla krävs läkarintyg. Avbokningsskyddet gäller även för alla som reser tillsammans med den som insjuknat och som är inbokade vid samma tillfälle.
Cancellation insurance is offered on all cruises and is valid if you get ill. To get the refund you must present a medical certificate that confirms your illness. The cancellation insurance is valid for all persons in a group that are travelling together and that have booked the trip at the same time.
Presentkort / Gift cards
Betalning med äldre presentkort (enbart siffror)
Skriv presentkortets nummer och värde i fältet för Övrig info.
Välj betalning med faktura.
Dra av presentkortets värde från det belopp som ska betalas, och betala resterande belopp.
Ta med presentkortet och lämna det vid ombordstigningen.
Paying with old gift certificate (only numbers)
Enter the gift card number and value in the field for "Other info".
Choose to pay with invoice.
Subtract the gift card's value from the amount to pay for the remaining amount.
Bring your gift card and submit it when boarding.
Medlemsrabatt / Member Discount
Medlemmar i Föreningen Briggen Tre Kronor har 15 % rabatt på alla seglingar. Se Briggenbladet för mer information och rabattkod, eller mejla sture.haglund@briggentrekronor.se
Medlemsrabatten kan ej kombineras med andra erbjudanden.
Members of the Association Briggen Tre Kronor are entitled to 15% discount on all sailings. See our news magazine "Briggenbladet" for more information and discount code, or mail sture.haglund@briggentrekronor.se
The member discount cannot be combined with other offers.